Start your day off right! Breakfast is my favorite meal. I love a large bowl of oatmeal with berries and a fresh juice to start my day. Here are three delicious oatmeal recipes I have been trying this month.
Oats are known for being the healthiest grain. They are a great source of vitamins, minerals, fiber and antioxidants. I love adding chi seeds, nuts, goji berries and lots of cinnamon to my bowl. 
1. Baked Banana and Blueberry Oatmeal by Deliciously Ella
"Save this delicious recepie for when you have some time in the morning, maybe a lazy Sunday morning. Baking the oatmeal is unique, but its definitely worth the wait."
INGREDIENTS
50g oats
Handful of blueberries
50g walnuts
2 ripe bananas
30g sunflower seeds
70g raisins
5 tablespoons almond milk
2 teaspoons cinnamon
2 tablespoons maple syrup
METHOD
Preheat oven to 180c, fan setting.
Place the oats in a bowl and cover with boiling water, just so the top is covered - soak for 10 minutes, until soft.
While the oats are soaking, mash one of the bananas and slice the other into pieces.
Crush the walnuts into bite-sized chunks.
Once the oats have absorbed the water and become soft, stir through the mashed banana, chopped walnuts, maple syrup, cinnamon, blueberries, sunflower seeds, almond milk and raisins.
Transfer the mixture to a baking dish and place the pieces of sliced banana on top.
Cook for 20 minutes, until golden.
2. Honestly Healthy's creamy vegan cashew porridge.
"Simple porridge recipe. Try substituting cashew butter for an almond or peanut butter. Also when pomegranates are not in season try fresh raspberries or bananas."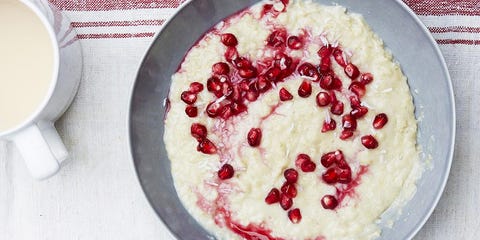 INGREDIENTS
90 g

 

gluten free oats

25 g

 

grated apple

400 ml

 

almond or rice mylk (optional to split 50/50 with water)

1/8 tsp.

 

cinnamon

cashew or seed butter
METHOD
Put the oats, grated apple, milk, cinnamon into a pan and put on a medium heat.
Stir continuously for 3-4 minutes until the oats absorb the milk.
Add the cashew butter and stir until combined and creamy.
Take off the heat and serve with pomegranate seeds.
3. Healthy Salted Caramel Oatmeal by Oatmeal Stories
"Love that this recipe was sweetened with dates and the vanilla provides a lovely flavour."
INGREDIENTS
50g (about 1/2 cup) rolled oats
1 medjool date, pitted and chopped
generous pinch of good quality salt
120ml (1/2 cup) unsweetened plant milk ( I used almond)
120ml (1/2 cup) water
1 tsp of natural vanilla extract or 1/4 tsp of vanilla bean paste
For topping: a handful of fresh raspberries, 1 to 2 teaspoons of peanut butter, almonds, quinoa puffs, coconut syrup (optional).
METHOD
Add all ingredients to a saucepan, mix well and bring to a simmer.
Cook over gentle heat until most of the liquid is absorbed and date chunks begin to fall apart. It should take 6-8 minutes. Stir frequently.
Mash a handful of fresh raspberries with a fork.
Transfer cooked oats to a bowl, top with peanut butter, mashed raspberries, almonds, quinoa puffs and optionally a drizzle of syrup. Serve immediately.
Looking for something cooler for the summer. Try soaking your oats overnight in the fridge with your favorite milk and a dash of cinnamon.  In the morning you can grate an apple or add berries and enjoy!