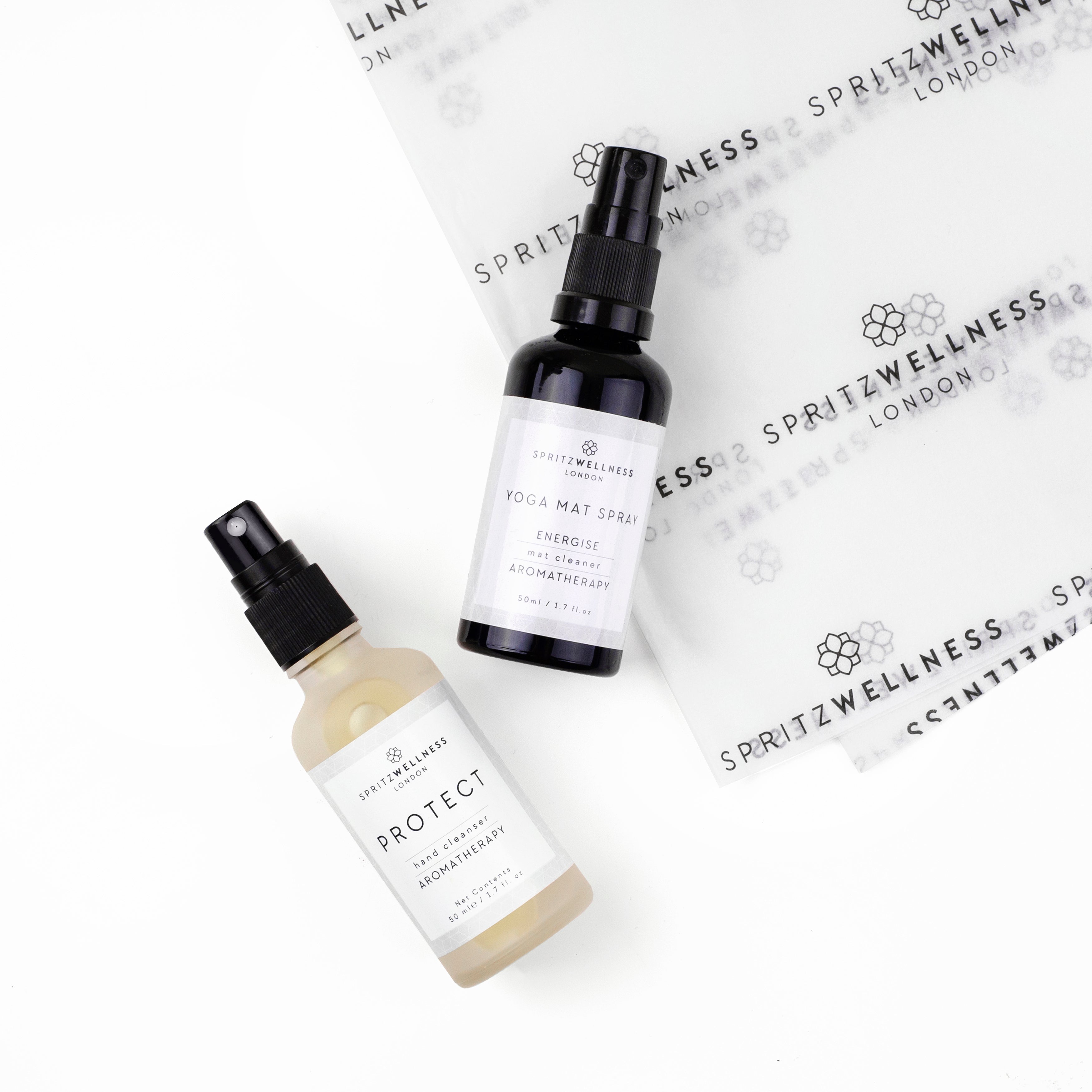 Hand and Mat Cleanser Set
Protect Hand Sanitiser and Enerergise Yoga Mat Spray.
Two all natural products both scented with Lemongrass.
All sets are beautifully wrapped in tissue and add a personalised message to your gift upon checking out. 
All Natural Hand Sanitiser 50 ml
Protect your hands from bacteria and germs while leaving your hands soft and hydrated.
Quickly absorbed by the skin, dries almost instantly, so there's no need to rinse.
No greasy residue and kills germs naturally. Leave hands feeling soft and clean. 
Plant based blend that sanitises without drying.
Aloe Vera and Vitamin E soothes and hydrates the hands naturally.
Scented with pure essential oils.
100% natural ingredients 
60% alcohol, recognised by the NHS, World Health Organisation and Public Health England to be a content level that is effective for cleaning hands.
Active Ingredient: Hamamelis virginiana (Witch Hazel)
Inactive Ingredients: Aqua, Melaleuca alternifolia leaf oil (Tea Tree), Cymbopogon citratus leaf oil (Lemongrass), Tocopherol (Vitimin E), Glycerin, Sodium levulinate, Aloe barbadensis leaf juice (Aloe Vera), Sodium anisate, Carbomer, Phenoxyethanol
Usage: Spritz three times into the palm and rub hands together until dry. Ensure that you cover between the fingers around the thumbs, nails, and fingertips. 
Caution: Avoid misting directly on a naked flame. Do not take internally. Avoid contact with eyes. Stop use and consult a doctor if skin irritation develops. Keep out of reach of children.
Energise Yoga Mat Spray 50 ml
Wipe the sweat away, yoga mat spray.
Fresh and calming mist.

Naturally energising the mind and body.

Designed to clean and restore yoga mats and props. 

Formulated with the antiseptic and antiviral properties of Tea Tree and  the fresh scent of Lemongrass.
All natural pure essential oils. Alcohol free.
Two convenient sizes. 
Incorporate aromatherapy into your practice. The fine mist is designed to clean and restore Yoga mats with the added benefit of calming the mind and relaxing the body.
Key Elements: Aqua, Lemongrass and Tea Tree.
Lemongrass - Distinct energising and zesty scent. Antibacterial and antiseptic. Steam distilled from leaves/grass.
Tea Tree - Stimulating and purifying scent. Antibacterial, anti-fungal, anti-infectious, antioxidant and antiviral. Steam distilled from leaves of the Melaleuca tree native to Australia. 
Directions: Shake well, mist mat, wipe clean. Allow the mat to air dry before rolling up or using.
Usage: Before and after yoga sessions to clean and refresh yoga mat and props.