We have heard of "Hygge" but the concept of "Mys" is very intriguing. The following article is written by CountryLiving.com  and gives us tips on how we should embrace the winter season through the Swedish concept of "Mys".
Spritz Wellness is exhibiting at The Country Living Fair this November 13th - 17th in London.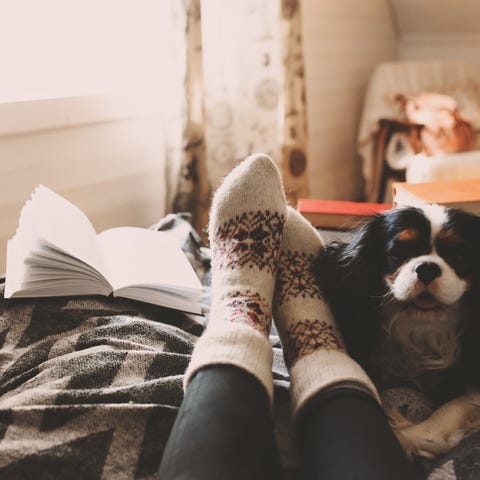 MKOVALEVSKAYA
GETTY IMAGES
If you haven't heard of the word 'hygge' by now, then where have you been since 2016? For those of you who are none-the-wiser, hygge is a Danish word which encapsulates an atmosphere, rather than a 'thing'. It means an ambience of warmth, wellbeing and cosiness, when you feel at peace and able to enjoy the simple pleasures of the moment.
But the mindful nature of this word has been slightly reversed in recent months, with hygge been turned into a marketing tool used to pedal everything from books, candles, blankets and rugs, to tea and even food.
Meanwhile, it's Swedish counterpart 'mys' has stayed much in the dark – not that we want to unveil it ready for the same on-trend fate, but so we can reclaim the true value of these scandi wonders.
Mys is the term the Swedes use to describe being cosy and also refers to snuggling. It is different from hygge in that it relates more to your surroundings and being close to people. That said, you do not have to buy lots of expensive interior products to achieve 'mys' and someone living in a student flat can experience it just as well as someone living in a country home.
Pronounced "mees" when used as a noun, mys is also an extremely versatile suffix and can be added onto many different words. Friday mys ('Fredagsmys') in Sweden is a national tradition, when, after a long week at work you get 'mysig' with your friends and family, whether that's in front of the TV or having dinner and a glass of wine – relaxing, basically. If you want to mys on a Saturday, that's 'Lördagsmys'. Fancy getting cosy at Christmas? That's 'Julmys'. What if it is a weekday and in the evening? Then you've got 'kvällsmys'. That is the beauty of the word.
You have probably experienced mys without even knowing it, but in case you need a little reminder, here's a list of ways you can enjoy this simple feeling...
Ways to experience mys in your everyday life:
 

Dim the lights and light candles whilst you are watching TV

 

Buy some solar fairy lights to put around your bed

 

Invite your family round for a big family dinner and dress the table nicely with candles

 

On a Sunday morning, take your cup of coffee back to bed

 

Invite your best friend round, bring the duvet from your bed and huddle together on the sofa watching a movie

 

When it is raining, sit by the window in a big jumper and listen to the sound

 

Light a roaring fire on a cold night

 

Avoid harsh ceiling lights or spotlights and instead light your rooms with smaller table lamps

 

Wear big woollen socks on a cold day in your house

 

Grab your favourite book and curl up in an armchair
These suggestions all sound divine! Spritz Wellness would add, mist the room with the warming scent of Joy Atmosphere Mist. The rich winter scents of cinnamon, cloves, nutmeg and orange provide a cheerful and festive atmosphere. Ideal for getting cozy!